Corinne Swain pays tribute to the life and work of Professor Sir Peter Hall.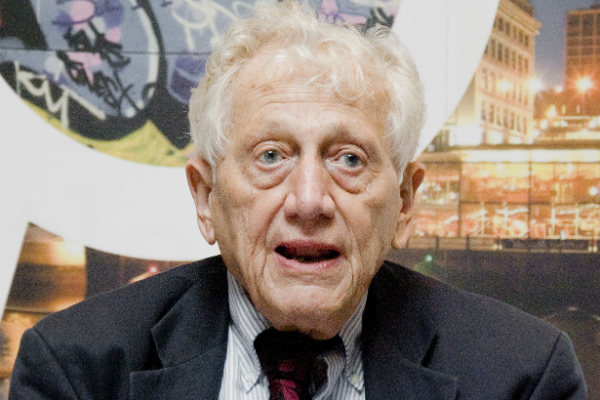 At a thought-provoking event on 22 October organised by the Bartlett School of Planning, UCL and the Town and Country Planning Association, the late Sir Peter Hall was remembered by some 700 participants at the Royal Geographical Society. The format was a collection of songs and readings designed as a reminder of both the utopian ideals of early social reformers and Peter's contribution to the study and practice of planning, geography and regional studies from the 1960s onwards.
Extracts from Peter's prodigious output (including 50 books) were read by representatives of the many constituencies in which Peter was active – the academic world, professional associations, national government, property development and journalism - proof of Peter's ability to work across both disciplinary and sectoral divides, and to bring alive the importance of cities to a wider audience.
Peter shared his insights with the Future of Cities project on several occasions, the last of which was at a conference of our review paper authors in late June. Here he spoke eloquently and unscripted about the need to coalesce thinking about 3 different definitions of a city - administrative, physical and functional - in future policy. On the UK system of cities, he reminded us not to underestimate the importance of independent knowledge cities like Cambridge, in the pursuit of agglomeration economies. In terms of a Northern Powerhouse, he was more interested in thinking beyond creating a few points of light along HS3, as to how to create connections with points of darkness such as Blackpool and Burnley, often suffering from poor educational achievement.
One of the poignant readings at Peter's memorial demonstrated his ability to think strategically into the long term future. Many of the trends foreseen in 'London 2000', written in 1963, have certainly materialised and some of the policy ingredients remain applicable.
Peter was a great believer in learning from international experience. The final messages in his most recent book 'Good cities, better lives', resonate well with some of the emerging themes in the Future of Cities project:
free the cities
goad city leaders to grow city-regions
invest adequately in urban transport and urban quality
establish (or relocate) state-financed research institutes
recast universities to make them agents of technical and cultural change
create (or recreate) regional and local banks
create new forms of housing tenure
work to achieve a broader policy framework that will allow and encourage these policies to happen
In the many tributes to Peter, a common strand besides his visionary thought, was his warm humanity – he was always ready to offer constructive support to colleagues, students and politicians alike. He was an inspiration to all of us who were lucky enough to have worked with him.
Featured image by the Centre for Cities on Flickr. Used under Creative Commons.
Sign up for email alerts from this blog, or follow us on Twitter.