Guest post by Jim O'Neill, City Growth Commission Chair.
One year ago the City Growth Commission set out with a simple, extremely ambitious goal, namely to think of specific recommendations that might boost the growth rate of the UK economy. We didn't expect that, significantly before our 12 months were over, the major political parties would accept the case for cities and further devolution of decision-making and risk. But as we have approached this final report, launched today at the Royal Society of Arts, and having hosted events at each of the parties' annual conferences, it appears to be the case. Now, we hope with this report, to give a further nudge towards action. As the saying goes, action speaks louder than words.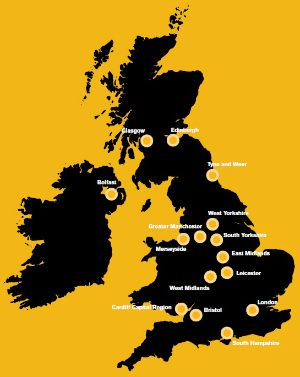 As the major centres of economic activity the Commission narrowed our focus to the largest 15 'metros', redrawing the map of cities and their hinterlands by functional economic geographies - each with a population over 500,000. We set out early in our existence to frame the case purely from the economic perspective, working to the principle that efforts to drive growth are not a zero sum game; growth in city 'A' does not preclude growth in city 'B'. This idea is particularly important in the context of London, and underlying debate in this country as to whether the capital has grown 'too big' or is holding back the prosperity of other cities.
Our ideas are most definitely not expected to be at London's expense. On the contrary, we have thought long and hard about trying to replicate some aspects of our capital's fantastic success, especially its sheer scale and the productivity effects of agglomeration, which are amongst London's greatest attributes.
Agglomeration has been a huge influence on our thinking. As we discussed in our special report on connectivity, 'Connected Cities: the Link to Growth' bolder efforts to boost our infrastructure, both digitally but especially physically, lie at the heart of many of our recommendations. It has been pleasing to see the Chancellor respond to the core of this issue by calling for a 'Northern Powerhouse', just as it has to have seen the response of 'One North', and indeed, also 'Midlands Connect'. If our closely geographically located cities can have the best transport infrastructure between them, it allows their current and potential consumers and producers to benefit from the opportunities of being part of one urban economy.
The network of cities in the North, or "ManSheffLeedsPool" as I have become fond of saying, brings together 7 million people and as they find it increasingly part of everyday life to move around within this area, it is easy to see that the agglomeration benefits that typically accrue to London could be repeated elsewhere.
Another important finding of ours is the geographic diversity of our excellent universities and last week we launched in Cardiff the final interim report of the Commission – 'UniverCities: The knowledge to power UK metros'. A fascinating debate ensued about the role of business and higher education institutions in nurturing innovation, creating jobs and driving growth. Some universities are already working to encourage their inspired and enterprising young minds to develop research ideas, start new businesses and invest – if not immediately upon graduation – back into the place where they studied. But more could be done to incentivise these behaviours and the discussion highlighted the importance of effective leadership and governance.
In 'Powers to Grow: City Finance and Governance' the Commission set out our ideas on the potential for fiscal devolution and metro accountability and the final report builds on these to ask a series of challenging questions of cities and central government. While devolution will be a long-term process, we ask that the pace of change is driven by metros most willing and able to take on new freedoms and responsibilities. If the last 12 months were anything to go by, we would anticipate a number of other metros following fast in their footsteps. The argument has been won; the time for change is now.
For more information and publications, see the Commission website: www.citygrowthcommission.com or contact Charlotte Alldritt, Commission Secretary: charlotte.alldritt@rsa.org.uk.
Sign up for email alerts from this blog, or follow us on Twitter.