Guest post by Dr Mark Workman from the Energy Research Partnership (ERP).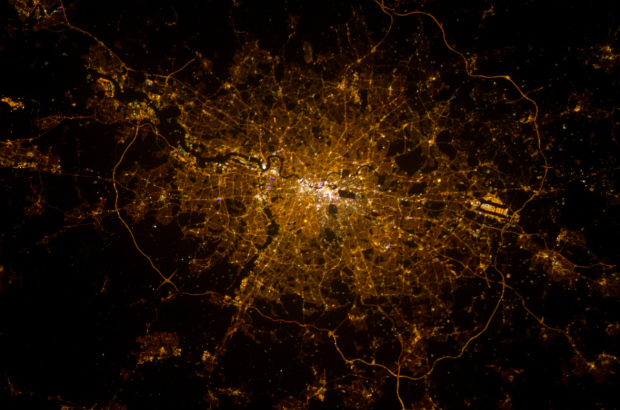 The Big 6 Utility Companies have 93% of UK electricity market share. It wasn't always this way. Go back to the beginning of the last century and your local authority was very likely to be your energy provider too. Under this system local tax-payers funded energy generation through the creation of municipal energy companies. As time went on, the desire for economies of scale, coupled with nationalisation drove consolidation of energy generation to a nation-state level, a system that was then privatised, resulting in a handful of multi-national energy utilities that now dominate the landscape, owned by shareholders not citizens.
With policy uncertainty and the scale of capital assets that need to be replaced innovating away from high-carbon generation hasn't been easy for the centralized utilities - but new technology brings disruption. Germany, where thanks to the declining price in renewable tech and some long-term policy objectives, is (on some days) seeing over 50% of daily electricity demand generated by renewables owned by communities, schools, small businesses and private individuals. Only this week German energy giant Eon announced it was moving away from coal and gas to concentrate on renewables and energy efficiency - understanding that, after a period of relatively easy profits, the energy market is about to get seriously Darwinian. As David Crane, the forward-thinking CEO of US utility NRG) remarks, "Utility executives are usually the antithesis of visionaries. If you ask me who I worry about beating us, I give very little thought to the traditional power companies. It's going to be a 'free for all'." US Utilities think-tank The Edison Electric Institute's report on renewables Disruptive Challenges warns that its members face "declining utility revenues, increasing costs, and lower profitability."
The coming revolution is a-political. The Hoover Institution at Stanford University sees, in the US, both Republican and Democrat states embracing the benefits of green - while seemingly unlikely - across-the-divide collaborations like the Green Tea Coalition (a joint initiative from environmentalists and Tea Party members) bring entrenched enemies together to drive a renewables renaissance that doesn't agree with existing business models of the large energy players.
The future of energy is up for grabs
Navigating the change that is coming successfully can be a 'win' for everyone, while ignoring the challenges could have serious repercussions.
An increasing desire from both city authorities and central government for cities to become more autonomous creates a breeding ground for new business models and partnerships to flourish, all while helping us to meet sustainability and climate change-related targets (see figure below1 ).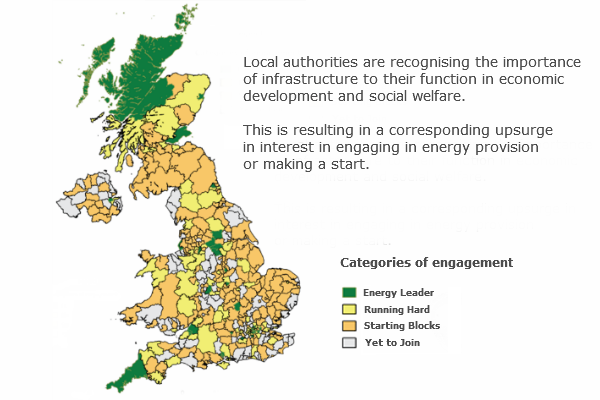 At the heart of the ERP's agenda are 2 important questions:
How well do we understand the gap between the energy aspirations of UK cities and the regulatory / policy frameworks, processes and factors which are needed to make those aspirations a reality?
What are the wider implications of greater decentralised generation in the UK energy system and the consequences for the UK's centralised utility model and the regulatory environment?
They're questions that anyone involved in the energy sector, city municipality governance, urban citizens and wider society should be interested in - and this is reflected in diversity of participants in the ERP's steering group and project team, which includes;
This is a veritable smorgasbord of expertise covering systems expertise across a range of technologies as well as international experience in developing, financing and delivering non-traditional business models for energy generation, all with support from policy and regulatory members. All are passionate about better understanding the future of UK energy system and how best to transition to it.
ERP is working with academics modelling and assessing what a decentralised energy system might look like in the UK and what it will take to realise it. Early analysis suggests that a substantial proportion of the UK energy system could be provided by decentralised municipal scale generation, but new infrastructures, emerging technologies and institutional frameworks are necessary. Furthermore, the need for international interconnection and demand reduction are considered fundamental to the large scale realisation of a UK decentralised system. With this in mind, the ERP project is seeking to asses technical and regulatory issues around (though not be limited to):
what does autonomous municipality scale energy management delivery look like?
better understanding of the role and integration of decentralised and centralised energy systems in a future UK low carbon energy system
assessing distribution networks for both heat and electricity - capacity, siting, viable business and governance models
the operational, regulatory, energy market and policy implications of greater decentralised energy in the context of the UK's decarbonisation targets to 2050
It's in this context that the ERP is bringing together stakeholders and funders of energy research, development, demonstration and deployment across government.
The ERP is also working with the APSE Energy Collaboration to gather the motivations, progress, concerns and barriers that local authorities have had in developing their own autonomous energy systems. This work will be fed into a by invitation only policy round table workshop2 to be held at the end of March 2015 in London. The outputs will coincide with the launch of Ofgem's consultation on non-traditional energy business models for energy generation. The policy round table workshop aims to provide a platform to assess and discuss the current desire of UK cities to develop their own autonomous energy management systems, allowing policy makers and regulators to gain an insight into the issues cities are facing and for everyone in the energy 'supply chain' to co-imagine a new future.
As the computer engineer Howard Aitken famously remarked, "the best way to predict the future is to invent it".
Featured image by NASA on Flickr. Used under Creative Commons.
Sign up for email alerts from this blog, or follow us on Twitter.