Guest post by John Regan from Lancaster Chamber of Commerce.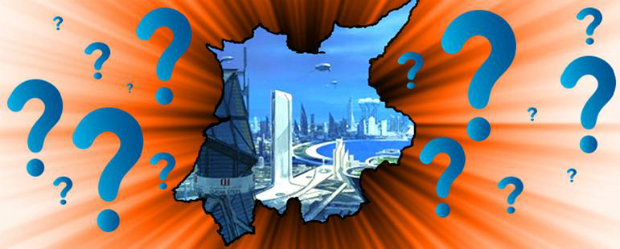 If asked to envisage Lancaster in 2065, I probably wouldn't have predicted that we'd have blue pancakes that help the elderly, or that one of our local landmarks would have a King Kong-style attack.
However, this is what Lancaster's young people have said our city 'will be like or should be like' in 2065.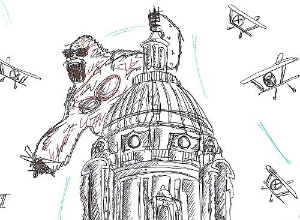 A lot of us will be very lucky to see Lancaster in 2065. In fact, ask any adult about the future of our city and the most common response is "it doesn't matter, because I won't be around then." We decided to consult with those who will be around and spoke to the leaders of the future: the youth of today.
The Good Childhood Report of 2013 shows that out of 10 different categories, young people reported the least overall satisfaction when thinking about the future. (The 2014 report, published after the onset of our project, placed 'thinking about the future' second to last.) One of the simplest ways of encouraging young people to think optimistically about the future was to get them to think positively about the nearer future: by offering them a highly-valued prize in exchange for their written and drawn ideas.
Thus, the Future of Cities competition came to fruition. With the aid of local radio station 'The Bay' and some custom-designed resource packs looking at the past, present, and future of Lancaster, we collected nearly 70 different visions for the future of our city. The Liveable Cities project team, a group from Lancaster University researching the future of cities, very generously funded the 6 brand new iPad minis that were to be offered as prizes.
In order to compare the entries to adults' responses, our project coordinator also attended an anniversary panel event ('Does the Past have a Future?') organised by Chamber director Chris May, the Northern Futures 'Open Ideas Day' (organised by the Deputy Prime Minister and coordinated by Imagination Lancaster at the university), and a Future City Visions workshop coordinated by the Liveable Cities project.
The competition entries ranged from the delightfully bizarre, such as poo-picking fairies that pick up dog muck, to the more altruistic and humanitarian, such as public wheelchair charging points.
The most common ideas related to artificial intelligence or 'robots', with a total of 31 references. Interestingly, 14 of these references included a picture of a boxy robot resembling the robot toys from the '50s, rather than anything resembling the robots featured in the popular 2008 film WALL-E (although some contained variations or didn't include a picture). The second most-mentioned theme was modes of transport, including travel by rollercoaster and 22 references to flying vehicles. One of the winning entries even did a fair representation of Lancaster's intricate and winding one-way systems. Third place was a tie between environmental concerns and references to money, with 'everything is free' as a particularly popular suggestion (and one rather worrying mugging by a Hargreaves-esque Mr. Nosey lookalike).
There was a strong tendency to use concrete references, relating to objects or 'things', showing that young people think of cities more in terms of physicality. This was a prevalent trend despite the fact that 38% of ideas would be classed (in adult terms) as 'fantastical.' 20% of ideas were identified as citing cultural references, most frequently mentioning films and consumer items/retailers.
There was also an identifiable relationship between age and how ideas were distributed across the pages. Younger children favoured drawing one big picture and adding annotations or producing dispersed individual ideas with unclear spatial relationships. Older children began to write in continuous, linear prose with distinct relationships between individual ideas. (This was compared to adult participants in the Future City Visions workshops, who predominately expressed ideas in a linear, causal, and cohesive way.)
Possibly one of the most interesting observations is how adults responded to the competition entries. When looking through even the most fantastical ideas, our project coordinator automatically attempted to rationalise the ideas and consider how they might be realised in reality. For example, 'gummy bears will take over' instantly evoked speculation about artificially-made gelatin (much like the recent in vitro burger), genetic modification and cyborg (half-organic, half-artificial) intelligence.
Alternatively, what does it mean to 'take over'? As I mentioned, the entries tended towards the concrete, physical city, so 'take over' would ostensibly be referring to a literal invasion. Considering the large number of cultural references, it would be safe to say that young people are attuned to particular cultural movements or trends, particularly with regards to consumer culture. Perhaps gummy bears could 'take over' in that they suddenly become a popular fad, becoming the 2065 equivalent of cupcakes and Candy Crush today.
Okay, the likelihood is that we won't experience a gummy bear apocalypse in Lancaster in 50 years. However, it is interesting to see how the findings reflect upon some distinct neurophysiological phenomena. On the one hand, the lag in pre-frontal cortex development in childhood accounts for the difficulty in joining up ideas or presenting a coherent argument (although this could also be attributable to level of literacy education). On the other hand, the greater neuroplasticity in childhood means young people have a greater propensity for adopting different ideas, whereas adults are generally more 'set in their ways'. Subsequently, children have the potential to think innovatively and creatively, which is evident in the fantastical ideas we found. This ability to think outside the box is exactly what we need if we want to think about solutions to future challenges and opportunities.
What have we learned from this consultation? Better still, what can we learn from our young people? We can use this innate creativity and 'fantastical' thinking to challenge our own thinking, and to get us out of our habitual, firmly-established ways of thinking. This will allow us to become more reflexive and will better equip us for meeting unexpected challenges, as well as potentially leading us to solutions that we wouldn't have been able to consider before.
In order to optimise the consultation process, providing post-it notes or flash cards will make it easier for young people to get their ideas down. Using cultural references that young people can identify with will also facilitate their thinking, besides using concrete, physical objects or 'things' as reference points. However, while it would be wise to guide young people to keep them on-topic, care must be taken not to impose our own ideas on them (3.5% of competition ideas copied directly from the resource pack).
Our project has been a fascinating journey, and has shown that young people's ideas are invaluable to the consultation process. I'll be keeping an eye out for those blue pancakes.
All images courtesy of Lancaster Chamber of Commerce.
Sign up for email alerts from this blog, or follow us on Twitter.