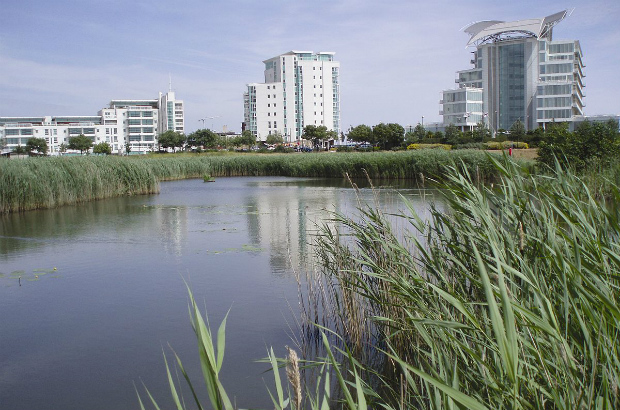 What opportunities might ecosystem services hold for the future city? Green roofs, living walls and vertical gardening are just some of the ideas mentioned in the latest paper published by the Future of Cities project. Joe Ravetz argues that cities depend on the services provided by the natural environment - everything from land and water to recreation and climate regulation - and that these services exist within, through, around and for the city.
In the past, the natural and the manmade were often treated as separate components; a manmade urban environment in need of nature being brought in or tamed to help make the city a more liveable place. A common way of introducing nature into the city was to set aside large spaces of land for urban parklands. (It's now often forgotten that New York's Central Park was once home to several hundred people who were moved to make way for the artificial lakes and manicured lawns that now occupy the space).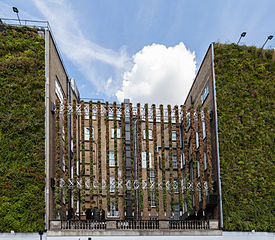 However, attitudes towards ecosystems and nature in cities have changed over time, and more recent efforts take a different approach. Joe Ravetz makes clear that urban ecosystems are not just about greenery and parks; they include habitats and microclimates, greenspace and green infrastructure, green belts and floodplains, and many other elements that interact with and make up city life.
On my daily commute there are many examples of attempts to use existing resources and take advantage of opportunities similar to those outlined in the paper. Victoria Business Improvement District has been working with local residents and employees to retrofit green infrastructure:
the Rubens at the Palace Hotel now has one of the largest living walls in London
hard-surfaced areas at the John Lewis offices have been transformed into a rain garden designed to manage localised surface water runoff
beehives have been placed on rooftops, with nearby facilities for residents and employees to process excess honey from the hives
These are just a few examples of the ways residents and workplaces are starting to think more about the services ecosystems provide and how they can best benefit the city. Joe Ravetz argues that industrial, social, political and ecological thinking present us with opportunities. The examples mentioned here suggest the value of engaging everyday resident and work populations in the thought processes behind initiating, installing and maintaining these ecosystem initiatives. They demonstrate how the city is being considered as an interconnected ecosystem and the potential benefits it could bring for the future.
Featured image by Cardiff Harbour Authority on Wikimedia. Used under Creative Commons. Image of  the living wall by Diego Delso on Wikimedia. Used under Creative Commons.

Sign up for email alerts from this blog, or follow us on Twitter.