As part of the Foresight Future of Cities project, a number of evidence papers have been written to provide an in depth analysis of some of the issues that UK cities will face in 2040 and 2065. We will be publishing these papers in batches over the coming months.
This post is the second in a series spotlighting the 3 papers we published in June.
City lives
Professor John Urry's paper considers developments in urban lives from 1980 to the present, in order to predict what they might be like by the middle of this century.
The paper examines 3 main themes.
The first is the nature of city lives and what makes them distinctive; John considers the nature of urban villages, the significance of suburbanisation and the ways in which cities are centres of tourism and consumption.
In the second theme, how cities in the UK have developed since 1970, John analyses shifts towards de-industrial or post-industrial cities, inner city decline, gentrification, service growth, digitisation and surveillance.
Finally, John looks at the third theme of how patterns of urban living around the world have changed since 1970. For example; he examines the global shift in populations from North America and Europe to the developing world, and the increase in the prevalence of informal settlements.
Urban futures
There is no future city which resolves all contradictions.
Drawing on this analysis, Professor Urry develops 4 different urban futures for the middle of this century, examining the potential transformations that could occur in UK cities to produce the different outcomes.
High-tech city
Mobile lives on the surface and through the air.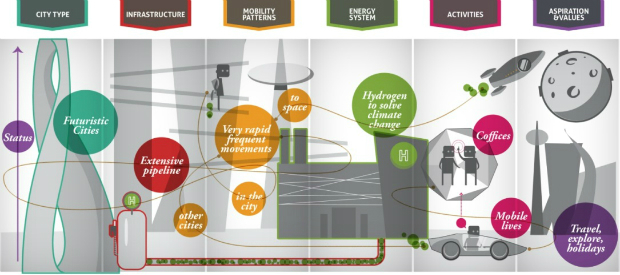 Digital city
Widespread substitution of physical movement of objects and people by may forms of digital communication and experiences.
Liveable city
Low carbon cities with a new idea of wellbeing (live small, drive less) and connect with those nearby.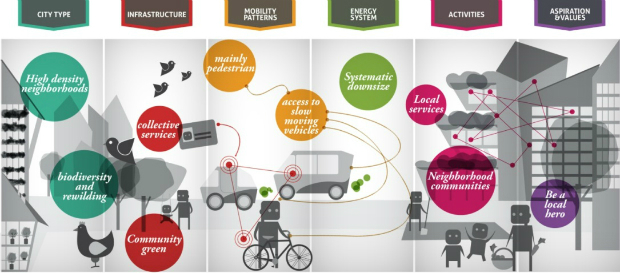 Fortress city
Rich societies break away from poorer in fortified enclaves. War for resources.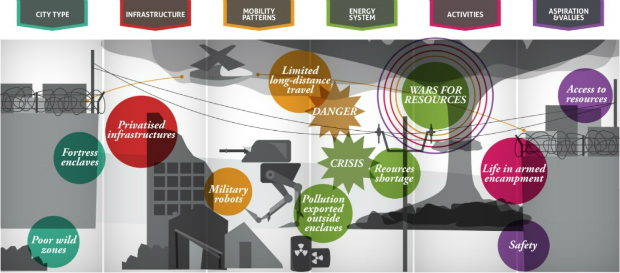 For each of these urban futures, the paper examines:
the movements of people
objects and communications
the changing nature and location of work
forms of leisure, consumption, and education
family and friendship life
The paper poses questions around whether these are coherent futures which could plausibly develop, and which of these are most likely to be realised. None of the city futures discussed is the 'best' or 'ideal' as all involve considerable personal and social costs.
Let us know your thoughts on the future of urban living in the comments below.
Sign up for email alerts from this blog, or follow us on Twitter.